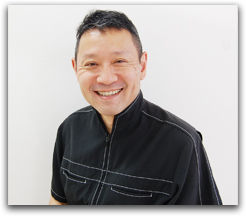 Jiro Otsuru, D.D.S., Ph.D.
Tokyo Dental College (D.D.S.)
Tokyo Medical and Dental University, Graduate School (Ph.D.)
Tokyo Dental College Suidobashi Hospital, Department of Orthodontics
  I had braces for two and half years since I was twenty-two years old. I feel good about my straight teeth and I'm glad that I did it. All of my teeth are my own, and I don't have any crowns or bridges. The key to keeping good teeth is to begin to "realize" how important it is to take good care of your teeth. For me, having braces was the opportunity to "begin to realize" this fact. As an individual who has experienced treatment with braces, I strongly recommend it to others as well.